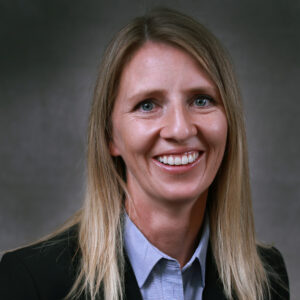 First year law student Marne Pehrson, earned her undergraduate degree in exercise science at the University of Utah and was working in a small, privately-owned gym and training center for older adults when she was inspired to pursue her master's degree in gerontology. "I loved the people I worked with!" she says. "Oftentimes, they are discredited, but they work really hard." This is one reason why Marne, who is interested in handling wills, trusts, and estates, decided to go to law school. "I want to help people protect what they have worked for their whole lives," she says. 
Marne, a single mom of two, has a 6-year-old daughter and a 4-year-old son. She moved to Provo to attend BYU Law and says living close to campus enables her to spend more time with her children than she otherwise could. "My daughter and I can ride our bikes to school together," she says. "My son was adopted through foster care and he's the other reason I decided to go to law school," she says. "I'd like to have the skills that would allow me to be an instrumental part of the team that helps foster children—they don't get to make any decisions." 
In addition to being a fulltime mom and law student, Marne is a big fan of squash, an indoor racquet sport played by two players, which she learned while she was serving a mission for The Church of Jesus Christ of Latter-day Saints in England. "When I got back from England, I still wanted to play. I got a job at a gym in Salt Lake City that had squash courts and got to play for free," she remembers. While there are no squash courts in Provo, Marne is able to pursue two other passions—rock climbing and mountain biking in the surrounding canyons. 
Marne says that the opportunity she had to meet members of the law school administration, such as Dean Bryan Hamblin and Dean Stacie Stewart was instrumental in her decision to attend BYU Law. She credits a supportive group of friends for helping her get here. " I have a great team," she says. "When I decided to take the LSAT, my friends put together a schedule to help care for my kids so I could study," she says. "As a single mom, law school will help me to be able to provide for my family."