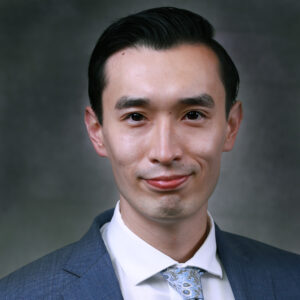 Oliver Yun, 1L, grew up outside of Beijing, China, and started learning English in elementary school. "My English was so bad," he remembers, "I couldn't spell the most basic words." In fact, Oliver describes himself as a "pretty bad" student all the way from elementary school to the first year of high school. "I didn't have any reason to study hard. After I entered high school, I saw my friends achieving great things in their lives, and I felt like I hadn't achieved anything. That was a wake up moment for me," he says. 
Determined to make some changes, Oliver went to work.  "I intensely studied English for a year and was able to make great improvements," he says.  At the same time, he adopted a consistent workout schedule, something that he says helped him to develop a growth mindset. "I started to set goals and follow through—and things always worked out. I realized that as long as I was consistent with my plans, I would make progress," he says. "That gave me the confidence, that if I really wanted to, I could achieve my goals."
Oliver attended the University of Oregon, where he studied international business. He enjoyed living in Eugene, Oregon, which he describes as a small, peaceful city where he could study without being bothered by distractions. While living in Oregon, Oliver met and married his wife, Corry Harline, who introduced him to The Church of Jesus Christ of Latter-day Saints. "My parents were not religious, and I considered myself an atheist before joining the Church," says Oliver, who was baptized in 2015. 
There are many reasons Oliver decided to go to law school, but he says the most important is that he wanted a career that would enable him to do good in society and to help others. "I want to learn how to be a great attorney and how to practice law under the laws of God," he says. So far, his experience at BYU Law has been positive. "I've enjoyed meeting people who share similar core values. Law school is not easy, but other students are always willing to help."